The winter blues. It happens to almost everyone. and lets admit it, going outside when it is a blizzard or its freezing just to take photos is not all that fun. But what can you do? Your pets will only sit still for so long, your kids will get bored and run off and your friends/partner/spouse will get fed up real quick. Well, there are a few thing that you can do to pass the time, and further your photography skills.
Self Portraits
My theory is, if you are willing to point the camera at other people you should be willing to point it at yourself. Then stare at them while you edit them. This will give you a slight feeling for how it may be for other people. I like to try out new techniques on myself. Just today I wanted to try something, so I set up my lights in the living room and shot this.
I have been wanting to refine my Photoshop skills and have been playing around trying to work on this. Th best part was this took up several hours. Anyway not only did it help with some lighting practice, but also Photoshop practice as well. Here as another that was less Photoshop but more practicing studio lighting setups.
I also ended up with some fun photos.
Still Life
The other option is to use items in your house. Yesterday I wanted to work on shooting food using artificial lighting. So I set up in my kitchen and went to town.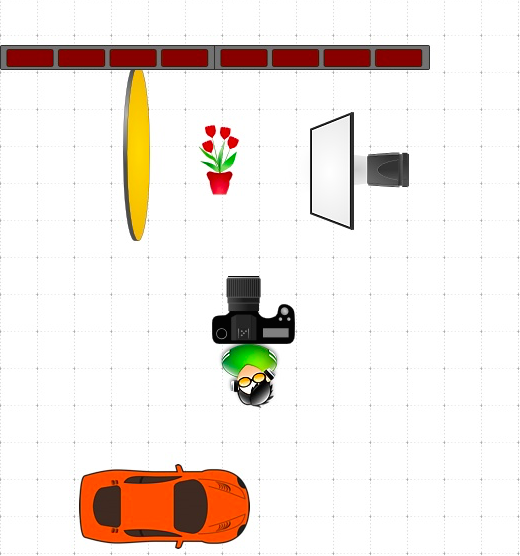 I spent a lot of years in kitchens and I love cooking food. I did't want to make it a career because I like to cook for friends and family and get to enjoy the food with people that I like. So the next best thing is shooting food. Normally I use window light with a white bounce card behind it. But I really wanted to use artificial light. My set up is in the diagram, but I used a gold bounce panel behind and fired a flash through a diffuser panel at approximately 1/4 power. The whole set up was only about 2-3 feet long. (There was an option to use a car so I threw that in, there is no relevance to the shoot). I had a lot of fun and it took up a good amount of time.
What may happen
So in doing this not only do you better yourself and your understanding of photography, but you also can end up with some rad images. Or... Check out this story from Jerry Wang of Jerry Wang Photography in Lawrence, Kansas.
"The winter months can be a slow season for a lot of photographers. In addition to updating my portfolio, catching up on bookkeeping and brainstorming new marketing ideas, I use personal projects to maintain my creativity and refine my skills. The project can be based on an idea, a technique, or a specific subject.
This past fall, I began to collect watches as a side hobby. Naturally, being a photographer, I wanted to share my experiences with other watch enthusiasts via Instagram. I started with pretty simple set ups using my iPhone and natural lights. As my collection grew, the shoots evolved in complexity. When my Steinhart Ocean Vintage Military arrived in the mail, I decided on an impromptu photo shoot to showcase the details in the watch.
To create the shot, I placed the watch on a black acrylic board. The watch was lit using two large softboxes at 45 degrees on either side of the camera. This helped provide large even lighting on the bracelet and eliminated glare in the face of the watch. If I were to do it over again, I would add a third rim light from behind and above the watch to add some background separation. Overall, I was pretty happy with the quick set up and the resulting image."
Jerry didn't mention it in his story but just the other week he got sponsored via his watch Instagram account (@MrNavyAndBrown) and received 4 free watches.

All because of having fun and shooting for practice.
So if you are snowed in, or bored or have nothing to do. Get up and shoot!